Friday, September 30, 2011
The
agita
of
Halloween costumes
has begun.
Some people enjoy dreaming up creative costumes to put their kids in. I do not.
This year, Peter is going to be Darth Vader. I am strongly hinting to Greg that he should be Anakin or Obi-wan. He wants to be Shun from Bakugan. Who, you ask? Shun is a Japanese-anime-ish character who travels to the Doom Dimension to throw little toy balls on the ground, screaming "Bakugan Brawl!" Still not ringing a bell? Yeah, I'm having a hard time coming up with a costume for that too.
Princess wants to be Minnie Mouse, but the two costumes I have bought so far have not fit. I have a TON of costumes out in the garage that DO fit her, but they are not Minnie Mouse. We had such a time trying to get OUT of the second ill-fitting Minnie Mouse costume that she was crying, and when I finally got it off her, she said "I think I will just be myself for Halloween."
What are you/your kids being for Halloween?
*************
I linked up my
bedroom
to the Roomspiration party at
Just A Touch of Gray
today. There are some great bedrooms there, check them out!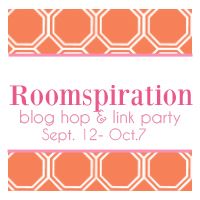 Read more...